Product - M260
M260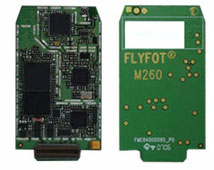 GSM/GPRS module
Product Description
Power supply: Single supply voltage 3.4V -4.2V
Power saving: Typical power consumption in SLEEP mode to <2.0mA
Frequency bands: 900/1800 (or 850/1900) Compliant to GSM Phase 2/2+
GSM class: Small MS
Transmit power: Class 4 (2W) at GSM900 Class 1 (1W) at DCS1800
Temperature range:
Normal operation: -20º C to +55º C
Restricted operation: -25º C to -20º C and +55º C to +70º C
Storage temperature -40º C to +80º C
SMS: MT, MO, CB, Text and PDU mode
SMS storage: SIM card
Supported SIM card: 1.8V/3V
External antenna: Connected via 50Ω Antenna connector or antenna pad
Audio features: Speech codec modes:
Half Rate (ETS 06.20)
Full Rate (ETS 06.10)
Enhanced Full Rate (ETS 06.50 / 06.60 / 06.80) HEE_H_AMR
HEE_F_AMR Support DTMF
Echo suppression+ noise reduction
Two serial interfaces Serial Port 1 Seven lines on Serial Port Interface
Serial Port 1 can be used for software update and adjust
Serial Port 2 can be used for maintenance
Phonebook management Supported phonebook types: SM, FD, LD, RC, ON, MC.
Phonebook storage: ME(100) and SIM card.
SIM Application Toolkit Supports SAT class 3, GSM 11.14 Release 98
Physical characteristics 58mm*32mm*3.9mm, <11g
DATA GPRS: Hardware GPRS class 10 capable and class B
Coding scheme: CS-1, CS-2, CS-3 and CS-4
Integrates the TCP/IP protocol.
Support PBCCH/PCCCH
FAX: Group 3 Class 1
Real time clock and calendar: Implemented
Timer function: Programmable via AT command
Firmware upgrade: Firmware upgradeable over serial interface
Connector Spring: 60 pins board-to-board
Audio interface: 2 microphone inputs and 2 speaker output
AT Command: Implemented