Product - MC55I
MC55I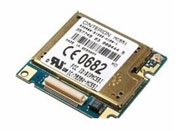 Product Description
Wireless Module MC55I
Quad-band, miniaturized
It s just 35 x 32.5 x 2.95 mm, but packed with impressive features: Quad-Band GPRS class 10, a TCP/IP stack, an RIL driver and compatibility with its predecessor, MC55/56. The MC55I comes with the same form factor, size, connector concept and AT commands as the MC55/56, but also has an optimized feature set on top of that, Quad-Band technology, full shielding and an even more stable mount, to name just a few points. This makes the MC55I an all-round module suitable for a host of fields: Security, vending, metering, gateways, remote maintenance and control, routers and a great deal more.
The Quad-Band technology allows the module to be used anywhere in the world. Which makes it even more valuable if the device is to be sold in Europe and the States, for example, since you only need to integrate one module during the development and production of your application. The improved mounting concept (with an additional mount hole), the full shielding and small size give you the ultimate flexibility and robustness you need in your development work.
The RIL driver for Microsoft© Windows Mobile 6-based devices comes free of charge and simplifies the development of smart phones, PDAs and industrial handhelds.
The key features of the MC55I at a glance
Quad-band GSM/GPRS operation: 850/900/1800/1900 MHz
GPRS class 10
TCP/IP connectivity
RIL driver for Microsoft© Windows Mobile 6-based devices
Small form factor: 35 x 32.5 x 2.95 mm