Product - MC52I
MC52I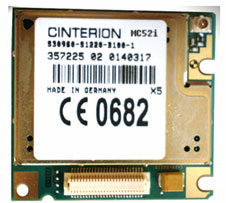 Product Description
Feature
General
Frequency bands: Dual band: GSM 900/1800MHz(MC52I)
Output power (according to Release 99, V5)
Class 4 (+33dBm 2dB) for EGSM850
Class 4 (+33dBm 2dB) for EGSM900
Class 1 (+30dBm 2dB) for GSM1800
Class 1 (+30dBm 2dB) for GSM1900
Power supply: 3.3V < VBATT+ < 4.8V
Ambient operating temperature according toIEC 60068-2:
Normal operation: -20 C to +55 C
Restricted operation: -40 C to -20 C and +55 C to +70 C
Physical Dimensions: 32.5mm x 35mm x max. 3.1mm
Weight: Approx. 6g
RoHS All hardware components fully compliant with EU RoHS Directive
GSM / GPRS features
Data transfer GPRS:
@Multislot Class 10
@Full PBCCH support
@ Mobile Station Class B
@Coding Scheme 1 -4
CSD:
@ V. 110, RLP, non-transparent
@ 2.4, 4.8, 9.6, 14.4kbps
@ USSD
PPP-stack for GPRS data transfer
SMS: Point-to-point MT and MO
Cell broadcast
Text and PDU mode
Storage: SIM card plus 25 SMS locations in mobile equipment
Transmission of SMS alternatively over CSD or GPRS. Preferred mode can be user defined.
Fax: Group 3; Class 2 and Class 1
Audio Speech codecs:
@ Half Rate (ETS 06.20)
@ Full Rate (ETS 06.10)
@ Enhanced Full Rate (ETS 06.50 / 06.60 / 06.80)
@ Adaptive Multi Rate AMR
Handsfree operation, echo cancellation, noise reduction, 7 different
Ringing tones / melodies