Product - SL9090
SL9090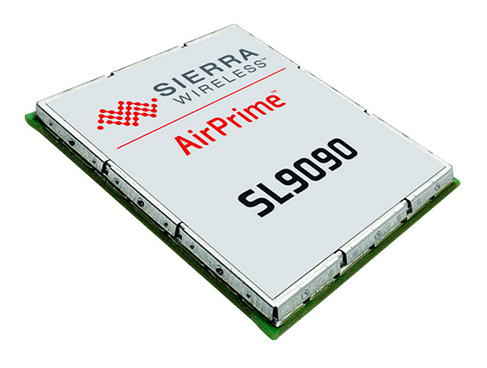 Sierra Wireless communication 3G module SL9090 with GPS for Americas, APAC & Japan
Introduction:

The AirPrime SL9090 Embedded Module is a 74-pin soldered-down 25mmx30mm LGA module. It
provides multimode HSPA+ and EV-DO wireless connectivity; and supports data connectivity on
UMTS HSPA+, GSM/GPRS/EDGE networks and on CDMA EV-DO Rev A, CDMA 1X RTT networks
as enumerated below:
GSM850
EGSM900
DCS1800
PCS1900
Band 1 (UMTS2100)
Band 2 (UMTS1900)
Band 5 (UMTS850)
Band 6 (UMTS800)
RX diversity Band 2 (UMTS1900)
RX diversity Band 5 (UMTS850)
BC0 (CDMA 800)
BC1 (CDMA 1900)
With the AirPrime SL9090, Sierra Wireless is early-to-market with a multimode, compact module that works on both HSPA+ and EV-DO networks, providing the flexibility.
General Features
Feature

Description

Physical

*Small form factor (74-pin solder able pad LGA)
* Complete body shielding
* RF connection pads — RF primary, diversity and GPS interfaces
* Baseband signals connection

Electrical

* Single supply voltage (VCC) — 3.4V–4.3V
* Complete body shielding — No additional shielding required
| | |
| --- | --- |
| Air interface: | 3G-HSPA+ with Rx Diversity, 2G-GSM/GPRS/EDGE, GPS |
| 3G bands: | 800/850/1900/2100 MHz |
| 2G bands: | 850/900/1800/1900 MHz |
| Peak data rate: | DL 14.4 Mbps, UL 5.76 Mbps |
| GPS: | Qualcomm |
| Form factor: | SMD LGA package, |
| Size | 25x30x2.35mm |
| Supply Voltage: | 3.6V nominal |
| Operating Temperature: | -40°C to +85°C |
Chipsets
SL9090 modems are based on Qualcomm solution MDM6600.
QMI commands
QMI commands are available for the AirPrime SL9090 embedded module for use in hardware integration design and testing. Note though that these commands are NOT intended for use by end users. For the list of available QMI commands and descriptions of their functionality, refer to document [4] AirPrime SL9090 QMI Command Reference.
Application:
Ensure easy upgrade paths to next-generation network technologies with a wide selection of air interfaces. Accelerate your M2M development and deployment with its application framework and cloud-based device management services.