Product - TOP-WIFI04-1
TOP-WIFI04-1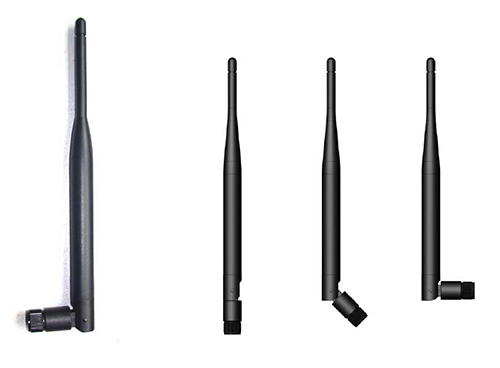 Rubber duck 2.4GHz WIFI antenna with high gain in wireless performance
Description:
You are looking for large 2.4GHz antenna with high gain ?
Our TOP-WIFI04-1 is a rubber Duck Antenna with Reverse Polarized .
Perfect for prototyping with our RF ICs. 50 ohm impedance.
With its 5dB gain it provides a solid performance boost. This is one of the most cost effective ways to get a boost in wireless performance.
Information :
This antenna will give you approximately 2 times the range over your existing wireless router "Stock" antenna. If you need a little boost in signal over your standard router antenna, It is a simple and quick replacement for your existing LAN card antenna. The 90° hinge will allow you to adjust the antenna into position for the highest speed 802.11 signal available.
Note: This WiFi antenna has the following connector options:
SMA - The SMA Male connector has threads on the inside and a center pin.
RPSMA - The RPSMA connector has threads on the inside and a center socket (instead of the standard pin).
RPTNC - The RPTNC connector has threads on the inside and a center socket.
Specification:
High Gain SMA-M BNC Vertical 2.4 GHZ WIFI Antenna 5 dBi
Quick details
WIFI antenna
50Ω unbalanced
5 dBi
195mm height
RP-SMA,SMA-M,BNC,TNC
Item

Specifications

Antenna

Frequency Range

2400~2483.5MHz

Band Width

83.5MHz

Polarization

Linear

Gain

5dBi

V.S.W.R

<2.0

Impendance

50Ω

Connector

RP-SMA Male or others

Environmental

Operating Temperature

-40℃~+85℃

Vibration

10 to 55Hzwith 1.5mmamplitude2hours

EnvironmentallyFriendly

ROHS Compliant
Application:
It is an excellent replacement antenna for your wireless routers, bridges,access point or PCMCIA card antennas
Drawing: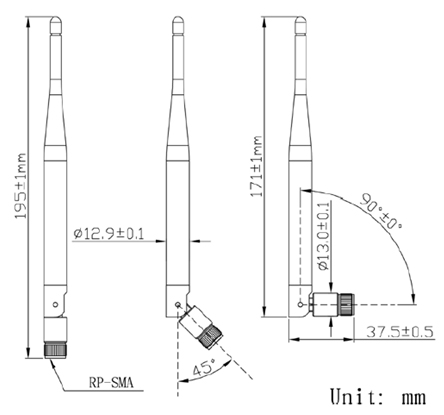 ---Perfect after-sales service
---Rich cooperation experiences with Communication product manufactures
FAQ
1. What|#@@#|s the Warranty of the Products?
Answer: In general, all goods with 12 month-warranty after the shipments .
2. How about thedefective rate ?
Answer: Less than 1%.
3. Where can customers get the Product Specification and other datasheets?
Answer: we will send them via email once get the request from the customers.
Our high quality products , competitive priceand professional service, be sure to meet your need for all kinds of components. ^_^