Product - MC7355
MC7355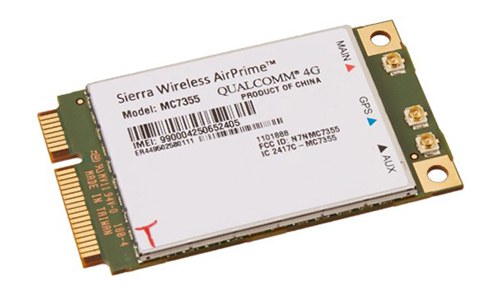 4G LTE module MC7355
Sierra Wireless introduces the first 4G LTE module MC7355 in stock available with best cost !
Support PayPal and Escrow deal for Brand-New Originals only .
AirPrime MC7355 augments existing portfolio of Sprint enabled modules, and Sierra Wireless continues to enhance and streamline certification processes through its CTIA authorized test laboratory
Vancouver, Canada-June 25, 2013
Sierra Wireless (NASDAQ: SWIR) (TSX: SW) today announced that the AirPrime® MC7355 embedded module is now Sprint-certified – the first 4G LTE embedded wireless module to be certified on the Sprint network. Demonstrating technical leadership in the LTE space, the MC7355 joins a wide range of Sierra Wireless modules available for Sprint, rounding out a portfolio that includes the AirPrime SL909x (Multimode 3G/EV-DO) and the SL501x (EV-DO), with the SL301x (CDMA 1x) currently being verified for approval.
The AirPrime MC7355 is a PCI Express Mini Card module capable of delivering LTE data speeds up to 100 Mbps downlink and 50 Mbps uplink and is compatible with CDMA/EV-DO, HSPA+ and quad-band GSM/GPRS/EDGE. For OEM customers, Sierra Wireless is uniquely positioned to manage and facilitate Sprint certification through its CTIA authorized laboratory, thereby eliminating the need for a third-party lab and significantly reducing the time to market.