Product - ZM8620
ZM8620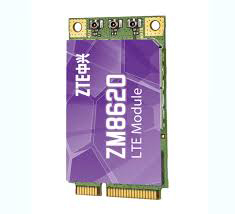 ZTE wireless communication LTE 4G module ZM8620 withQualcomm MDM9215 chipset
ZM8620 V2/A
ZM8620 V2/B
ZM8620 V2/C
Introduction:
This is the new ZTE ZM8620 LTE (4G) wireless module supporting downlink data rates up to 100Mbps and uplink data rates up to 50 Mbps.

ZM8620 is a multimode wireless communication module with mini-PCIE interface, which can be applied in various industrial or consumer devices. ZTE ZM8620 has a wide range of LTE-FDD bands, but also TDD-bands.

This version V2/A is supporting FDD- bands 1/2/4/5/7/8/12 as well as TDD-band 38 and focused on the North American market.
There is also a V2/B version for the European/Asian market. Please see our product catalogue for further details about this product.
Specification:
Network

FDD-LTE/TDD-LTE/UMTS/GSM

Frequency band

FDD-LTE 2100/1900/1700/850/900/2600/700 MHz

TDD-LTE: 2600MHz( Band 38)

EDGE/GPRS/GSM: 1900/1800/900/850MHz

DC-HSPA+/HSPA+/HSUPA/HSDPA/UMTS: 2100/1900/1700/850(900)MHz

Dimensions

51×30×4.9mm

Weight

11g

Temperature

-10℃to +60℃

Voltage

3.4V~4.2V/typical 3.8V

Interface

mini PCIE 52Pin

USB interface

USB 2.0

Driver

Windows XP/7/8, Linux 2.6.20 and later

Data rate

DL:100Mbps/UL:50Mbps

Function

Data/GPS/SMS

Commands

Standard AT commands/ZTE exclusive commands

Certifications




Highlights

Support dual antenna diversity reception

Support GPS Support Windows 8 OS

Support TDD and FDD dual mode



Data Transfer Rate
LTE FDD: Downlink:100 Mbps, Uplink: 50 Mbps
LTE TDD: Downlink:61 Mbps, Uplink: 18 Mbps
HSDPA Rel 6: DL 14.4Mb/s
HSUPA Rel 6: UL 5.76Mb/s
HSPA+ Rel 7: DL 28/UL 5.76Mb/s
DC-HSPA+ Rel 8: DL 42/UL 5.76 Mb/s
Interface:
Antenna connector
PCIe interface
USB 2.0 High speed
PCM Voice
SIM Card
Power Supply:
3.0 V to 3.6 V (3.3 V recommended)
Voice. PCM Voice
GPS/Glonass. GPS Standalone,A-GPS
Special Features:
FOTA*(developing)
eCALL*(developing)
USSD
Operating System.
Linux, Android, Windows series
Key Advantage
ZM8620 is designed to provide customers with global network coverage on the connectivity of LTE. It delivers 50Mbp-up and 100Mbps-down data rates on LTE FDD networks and can also be fully backward compatible with existing UMTS and GSM/GPRS networks.

The mini PCIE form factor of ZM8620 has become a popular standard adopted by connected device manufacturers to easily integrate wireless connectivity into their devices for commercial and industrial computer markets.
Rx diversity which allows the end-device to be equipped with two distinct cellular antennas improving the quality and reliability of the wireless connectivity.
Appication :
A rich set of internet protocols (PAP and CHAP used for PPP connections)and abundant functions (GPS/A-GPS/LBS, USSD, Band Lock, Open RIL code, MMS, SMS) extend the applicability of the module to a wide range of M2M applications such as metering, tracking systems, security solutions, routers, wireless POS, mobile computing devices, PDAs, tablet PC and so on.